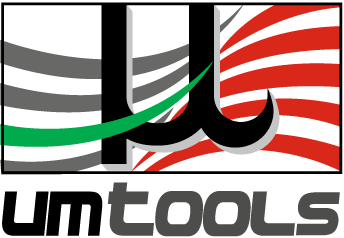 UM TOOLS: LET'S MERGE TO WORK TOGETHER
We chose to combine Utensilnord and Metrotecnica in a single company, UM TOOLS Srl: a business that collects experiences in the mechanical processing industry from 1980 in Schio, in the province of Vicenza, and then expand its market in Italy and beyond with new products and ideas.
Uniting means to increase our commercial strength, improve our service, introduce ourselves as a reliable partner and be a reference for the sale of high quality solutions.
With more than 80 employees and collaborators our company have branches in Northern Italy: Creazzo (VI), Cusinati di Rosà (VI), Grumello del Monte (BG), Levada di Ponte di Piave (TV), Pagnacco (UD) and Pordenone .
We are at the side of our customers to offer them advice, technical assistance and when requested, specialized training through our courses.
"We have had the pleasure of collaborating with the Utensilnord / Metrotecnica group for many years. Over the years, the group's management and collaborators, making our knowledge available to us and the market, have definitely contributed to strengthening and improving the distribution of our product. We are also convinced that this partnership, which has lasted for many years, can only further improve and have a prosperous future for both our companies."

"Efficient, resourceful, technically prepared and very, very, very dynamic!"
"I have been a customer for 20 years now: I can thank the entire organization for the punctual and professional work of the staff in your sales points and your technicians."
SUBSCRIBE TO OUR NEWSLETTER
We will update you with important news from our industry on products and techniques, new promotions, training courses and corporate communications that are important for our business and support relationships.